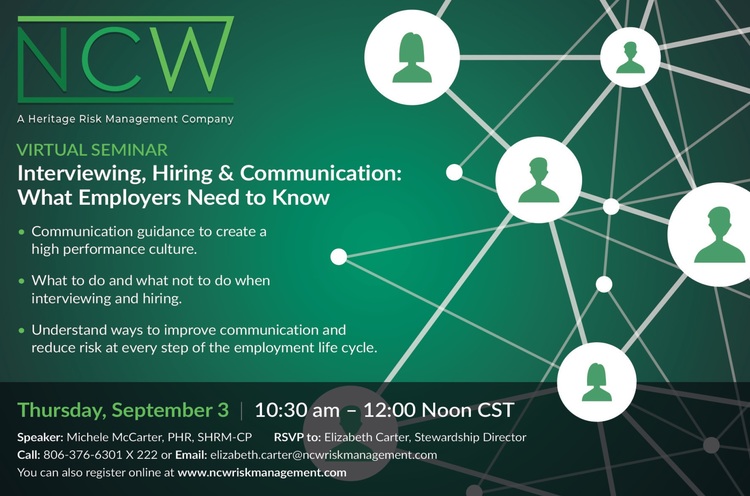 NCW Risk Management Hosts Virtual Seminar About Employer Communication
September 3, 2020 10:30 a.m. – 12:00 noon Online Webinar
NCW Risk Management is hosting a virtual seminar on Thursday, September 3, 2020, from 10:30 a.m. to noon. The seminar, "Interviewing, Hiring & Communication: What Employers Need to Know," will share actionable information for employers when interviewing and hiring.
The seminar will focus on communication tips that help leaders create high performance cultures in every level of their organizations, starting with interviewing and hiring new employees.
Attendees will learn what to do and what not to do during interviews and as they hire employees to comply with regulations and set new hires up for success from the beginning. The seminar will also provide guidance on improving communication and reducing risk at every step of the employment life cycle, helping companies improve productivity and effectiveness.
"If this year has shown us anything, it's the importance of internal communication," Kimberly Dryden, NCW Partner, said. "We're hosting this seminar because high performance cultures start with strong communication when hiring. We could all benefit from a refresher on communicating clearly during the interview and hiring stage."
Since its founding in 1926, NCW has placed a sharp focus on bringing experts to the Amarillo area to share vital information with the local business community. This virtual seminar will make it easier for busy company leaders to attend and incorporate this information into their business practices.
Attendees can RSVP by calling Elizabeth Carter, NCW Stewardship Director, at
806-376-6301 ext. 222, emailing Elizabeth [dot] carter [at] ncwriskmanagement [dot] com or registering online at www.ncwriskmanagement.com. NCW is an independent risk management agency based in Amarillo, Texas, which provides insurance, benefits and other risk management solutions to clients.